Vive L'Empereur! Fight for your Emperor with a musket in hand as Holdfast: Nations At War is now 60% off for the duration of Steam's Winter Sale. Join the community and participate in weekly organised events.
It would be great if you can help us spread the word around about the sale to bring this genre of Musket Warfare games that we all love in the limelight. We want to continue strengthening the following behind the game as it grows and develops.
Read more about what's to come in our latest blog post.

Constant Game Updates! Ongoing Dedication
We'd like to reaffirm our dedication towards pushing forward frequent game updates. With the recent introduction of two additional developers, Dylan 'Wrexial' Abela and Alistair 'PingPong' Azzopardi we have been delivering content at a much faster pace. We're looking forward to bring new members into the team as the following behind the game grows.
Have a look at the trailer for our most recent major update! Moveable Artillery. Expect more game updates to follow soon.
Game Updates
- Army Front! Battlefield, Conquest and Siege game modes all in one rotation.
» Multiple improvements to the Army Conquest game mode based on community feedback.
- 9 New Maps! Fort Pierre, King George, Ernest Ridge, Fort Salettes, Fort Schwarz, Snowy Plains 3 (L), Grassy Plains 3 (L), Desert Plains 1 (S) & Snowy Plains 1 (S).
- Melee Combat Mechanics! Direct improvements towards melee combat. More work will follow on this mechanic in a future update based on community feedback.
- Melee Arena Game Mode! Come up with new strategies on how to best your opponents before the arena gates open throwing you in a single-life team-based battle to the last man standing. Melee weapons are your only arsenal.
»6 new maps specifically designed for the Melee Arena game mode.
End of Match UI! Strive for the very top before the match ends to boast about your standing.
- Game Engine Upgrade. This was one of the largest undertakings that the team has undertaken to date.
- Server Optimisations. Multiple server optimisations to stabilise performance over long periods of run time and reduce latency when a lot of players are in close proximity.
- Customisable Crosshairs. A much-requested quality of life addition that gives players full control over their crosshairs.
- Recruitment Channel. A dedicated chat channel that regiments (game clans) can use to advertise their own group.
» If you aren't too keen on seeing recruitment messages, we've also included an option that allows you to disable this channel through the 'Game' options.
- A New Class! Cannoneer. The go-to class for dedicated artillerymen. They have a priority over the operation of field guns and indeed all of the other artillery pieces present in the game.
- Moveable Artillery! Move artillery around on the field of battle. Assist another player to move the gun at a faster pace.
- New Artillery Mechanics! Well trained crews will triumph over others as the new artillery mechanics have been designed from the ground up with team-play at the forefront.
» Carry ammo boxes to supply ammunition for field guns.
» New loading and ramming mechanics for artillery pieces.
» Moveable field guns will recoil back once they are fired. You can no longer automatically push the cannon forward on the field guns to encourage team play.
- A New Shot! Grapeshot. Artillery can be loaded with grapeshot which is especially effective against infantry.
- Quality of life additions, performance optimisations, bug fixes, gameplay balancing and a whole lot more.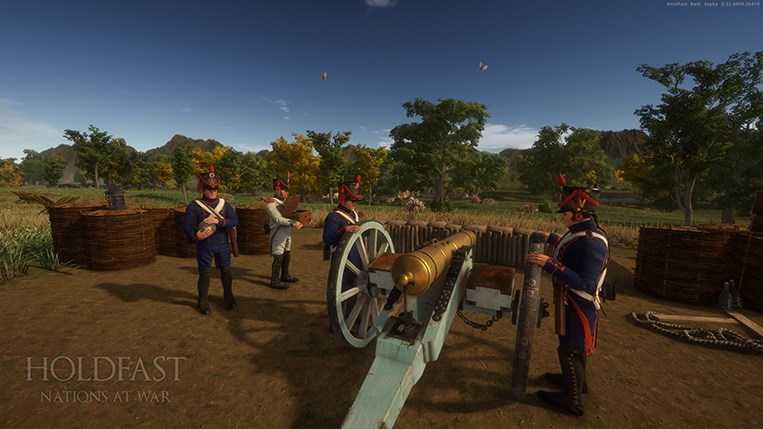 What's Next? Development Plans
Player built defences will be making an introduction into the game with the release of the next major update! Well placed defences will turn the tide of battle in your favour. There'll also be a new class coming along with this update.
There'll also be other updates besides the ones we've mentioned coming to the game leading to the release of the next major update. One of those updates being that we'll be providing players with the option to vote for their own maps after the round ends.
Here's a first-hand look at one of the uniforms for the class that will be assigned the role of building defences. As always, we'll keep you up to date on our progress.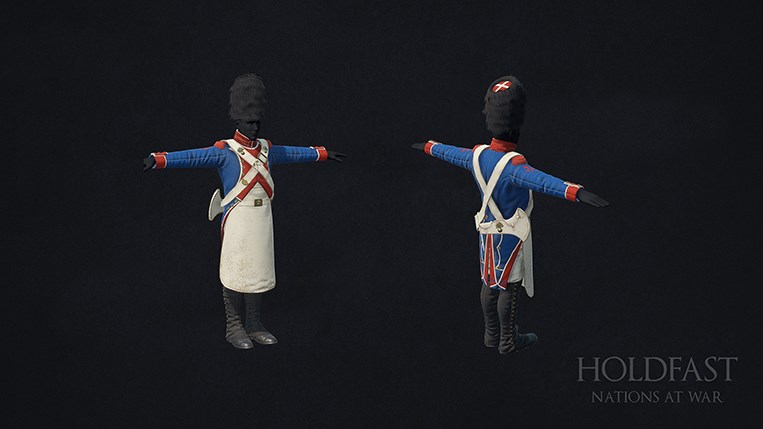 Community. Join The Discord!
Looking for a good bunch of fellows to play the game with? Do join our Discord! Linebattle events were players are encouraged to play in formations relevant to the Napoleonic era are hosted by the community through the week.
Discord is also a great place to be to stay in touch with the game's development. Feedback is always greatly welcomed. We look forward to seeing you there!
https://discordapp.com/invite/holdfastgame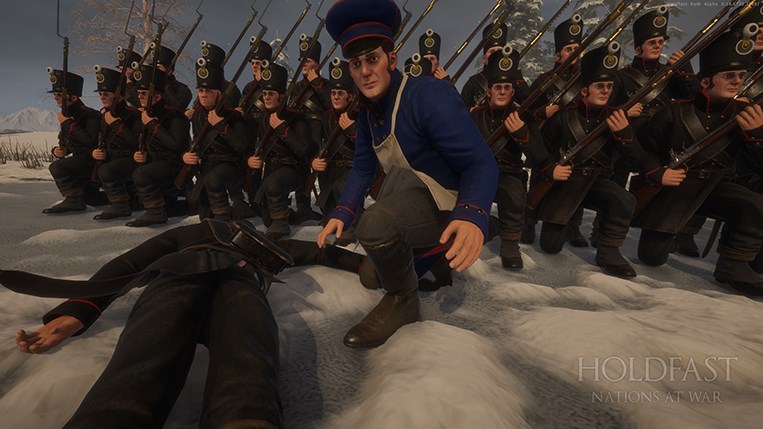 Once again, thank you for your support and until next time, may good health be yours.
We're working on the next update.
Discuss this blog post here.

The Holdfast: NaW team,
- Refleax, Rycon, Dreas, Wrexial, PingPong, Walki, Cameron & Rejenorst
Anvil Game Studios