A big thank you for your brilliant show of support since our release out of Early Access! It has been great seeing the community grow. For the first update following Version 1.0 bringing forth with the glorious introduction of the Russian Empire, we'll be pushing forward more additions and fixes.
Come have a read of our blog post for all the details.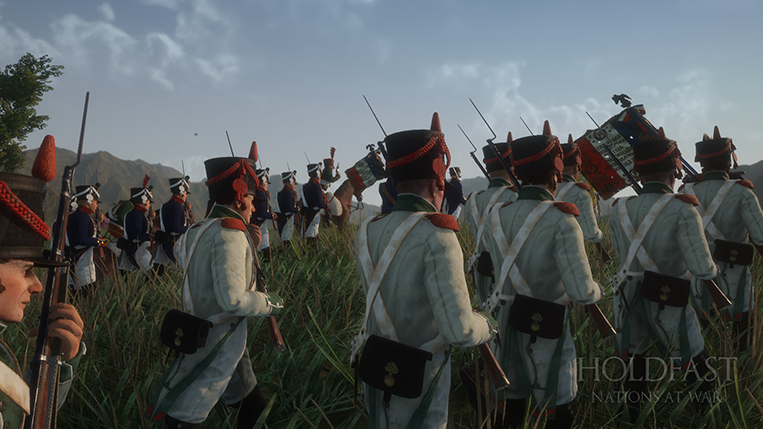 Community. Join The Discord!
Looking for a good bunch of fellows to play with? Do join our Discord! Linebattle events where players are encouraged to play in formations relevant to the Napoleonic era are hosted by the community through the week. Discord is also a great place to stay in touch with the game's development. Feedback is always greatly welcomed.
If you're a fellow in the ranks of a regiment, go declare your enlistment. Through this, you can gather access to the 'Field Camp' where clan specific discussion ensues. We look forward to seeing you there!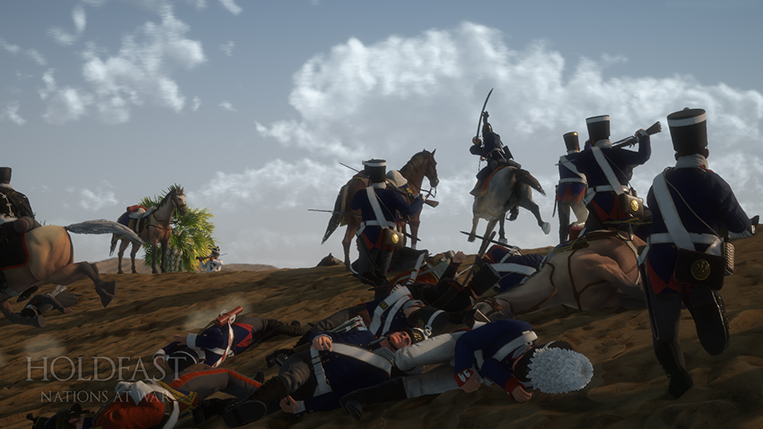 Changelog 50 - Game Version 1.1.7381.24523
Leaderboards & Soldier Rank
- Pushed an experimental fix for an issue which sometimes caused experience gathered not to contribute towards bettering your standing in the leaderboards or improving your soldier's rank.


Achievements
- Solved an issue which prevented stats-based achievements from being awarded.
» Ones that require progression such as the - 'Vive L'Empereur!' achievement where you have to slay 200 enemies whilst playing as French Line Infantryman for instance.
» If you have been affected by the issue, fulfilling the requirement again, for example, scoring a kill will trigger the achievement completion.


Gameplay - Artillery
- Roundshot fired from artillery pieces will now diminish in damage as it hits through multiple defences. This will ensure that the round shot eventually comes to a halt if it hits successive player-built defences.


Quality of Life
- Official servers will now display at the top of the server browser based on the player demand from a particular region. This is being done to provide community servers with greater coverage.

- You no longer have to scroll through the list of available languages when selecting a language from the options menu. Instead, the entire list will be displayed.


General Bug Fixes
- Solved a rare occurrence which caused the map to stop loading the next level when swapping between Naval Assault, Naval Battlefield and Coastal Siege game modes.

- Solved an issue which caused the end round screen whilst playing the Army Deathmatch game mode to appear white.

- Solved an issue which sometimes prevented players from joining the round if factions where being randomised in the Naval Warfront game mode.

- Solved issue with text scaling on multiple interface elements when choosing a language other than English.

- Solved an issue which caused exceptions to be outputted when carrying an object.

- Solved an issue which caused exceptions to be outputted when firing chain shot.

- Moved the 'Spectating' text further to the bottom of the screen to prevent it from overlapping with the respawn timer.
Changelog 51 - Game Version 1.2.7381.29455
General Bug Fixes
- Solved an issue which was causing a significant increase in bandwidth on the server.
Be sure to keep an eye out for an event allowing you to gather twice the experience in the coming days! There's a whole lot more in store for Holdfast: Nations At War - Stay tuned.
Once again, we thank you for your support and until next time, may good health be yours.
We're working on the next update.
Discuss this blog post here.

Once again thank you for all of your support from all of us on the Holdfast: NaW team,
- Refleax, Rycon, Dreas, Wrexial, Walki, Cameron, Jackson, Rejenorst & Harper
Anvil Game Studios